By Steven Erlanger and Matina Stevis-Gridneff
July 21, 2020 – The New York Times
With her long experience as German chancellor, she shapes a necessary compromise on virus aid for the battered European south. But it's consensus at a cost.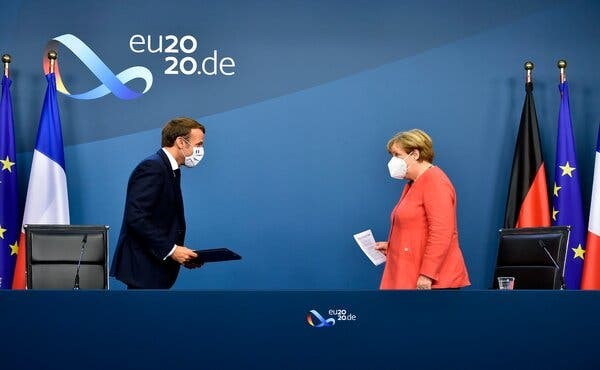 Chancellor Angela Merkel of Germany and President Emmanuel Macron of France after their video news conference at the end of the E.U. summit meeting in Brussels early Tuesday morning. Credit…Pool photo by John Thys
BRUSSELS — After days and nights of rancorous haggling, European Union leaders reached an $857 billion pandemic recovery plan on Tuesday that, for the first time, committed them to borrow money collectively and distribute much of it as grants that do not need to be repaid by the countries hardest hit by the virus, like Italy.
But as the dust settled after the marathon negotiations — the European Union's longest summit meeting in 20 years — the compromises that allowed Chancellor Angela Merkel of Germany, whose country holds the E.U.'s rotating presidency, to guide 27 nations toward consensus became all the more apparent, and none were too pretty.
The fissures in the bloc that Ms. Merkel needed to bridge ran up, down and sideways. There were divides between the frugal north and a needy, hard-hit south; but also west to east, between Brussels and budding autocracies like Poland and Hungary that have tested the limits of the bloc's liberal democratic values.
But allowing the crisis stirred by the pandemic to worsen was in the end considered more dangerous than trimming some of the bloc's larger budgetary ambitions or even allowing continued challenges to the rule of law.
The compromise that got most attention was between President Emmanuel Macron of France, who pushed for large-scale grants to southern European countries like Italy and Spain hit hardest by the pandemic, and Prime Minister Mark Rutte of the Netherlands, who pressed for more loans than grants and for structural economic reforms in return.
But how Ms. Merkel mollified the prime ministers of Hungary and Poland, Viktor Orban and Mateusz Morawiecki, may prove more consequential.
Not only was their money from Brussels protected and increased, despite regular questions about the misuse of those funds and efforts to condition the aid on adherence to the rule of law, but she promised to help them conclude bloc disciplinary measures against them for their alleged anti-democratic abuses.
"Prime Minister Orban told me he wants to take the necessary steps and does not want this to hang in the air,'' Ms. Merkel said early Tuesday about the disciplinary procedure that had been opened against Hungary. "We will support Hungary,'' she said, "but of course the crucial steps will need to be taken by Hungary.''
That concession, little remarked upon, may have sealed the agreement, even if it outrages critics who think that Brussels is showing weakness in the face of abuses of bloc laws and values by some Central European member states. And that aspect of the deal may end up being the most contentious in the European Parliament, which must approve it.
The agreement "looks like a disaster for the rule of law,'' said R. Daniel Kelemen, a scholar of Europe at Rutgers University. "Merkel and Macron were determined to reach a deal demonstrating the E.U.'s ability to respond to the crisis, and they proved willing to keep E.U. funds flowing to autocratic governments in order to close the deal.''
Still, by tying the recovery fund into the seven-year budget, the first without Britain, they managed to solve two extremely difficult and tendentious problems at once. For all its messiness, there was little doubt that what they had achieved for the bloc was groundbreaking.
Ms. Merkel understood that failure would badly undermine the new leaders of the European Union itself — Council President Charles Michel and Commission President Ursula von der Leyen, a former member of Ms. Merkel's government.
Having joined with Mr. Macron in supporting a virus recovery fund borrowed for collectively — a first — she then patiently worked for consensus, understanding the political needs of both Mr. Macron, whose expansive vision for the E.U. remains unfulfilled, and of Mr. Rutte, whose government hangs by a thread, depending on politicians even more tightfisted than he.
Mr. Macron and Mr. Rutte proved themselves two sometimes angry, sometimes emotional leaders of the two main contending groups, and the weekend talks were unusually acrimonious.
With Britain gone, Mr. Rutte and his Austrian counterpart, Sebastian Kurz, have stepped forward to create a bloc of smaller countries, known as "the frugals,'' which are trying to restrain the big-spending, integrationist ambitions of Mr. Macron and the poorer southern countries.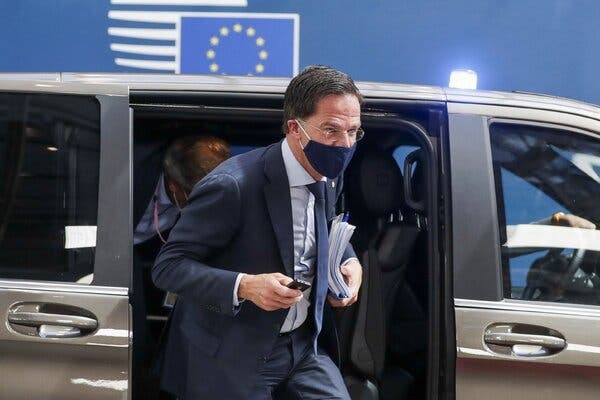 Prime Minister Mark Rutte of the Netherlands led a group of countries, including Austria, Sweden, Denmark and often Finland, that became known as "the frugals."Credit…Pool photo by Stephanie Lecocq
But while they came to Brussels saying that they were opposed to any outright grants based on collective debt, it was obvious that there would be some once France and Germany pushed for them.
Then the only question — however difficult — was to negotiate an amount and some mechanism to monitor the spending, so that everyone could go home talking of victory.
France and Germany had proposed 500 billion euros in grants; the Commission took that and added another 250 billion in loans; in the end, after intense squabbling, the balance was 390 billion in grants and 360 billion in loans.
Still, that is a remarkable victory for Mr. Macron, who has broken a major taboo on creating collective debt and built a possible architecture for handling future crises — if Ms. Merkel's successors agree.
For the future of the euro currency, the elephant in the room is Italy, the bloc's third-largest economy by most measures, and already drowning in debt. Italy is both one of the least reformed economies in the eurozone and one of the hardest hit by the virus.
So while both groups agreed that Italy must be a major beneficiary of funds that do not increase its already sizable debt pile, Mr. Rutte and his group — including Austria, Sweden, Denmark and often Finland — also wanted tough monitoring on the use of those funds. And they wanted member states to have a say in that monitoring, not just the Commission, the bloc's unelected bureaucracy, which they regard as weak and often blind to abuses.
That could create significant bitterness for the future. But for now, bending to reality, the "frugals'' in return got the numbers down, got some form of state monitoring and got paid off with higher rebates in the budget.
"Despite all this progress, we should not delude ourselves,'' said Friedrich Heinemann, research department head at ZEW Mannheim, the Center for European Economic Research. "The lack of competitiveness and low growth prospects in countries like Italy cannot be solved with transfers and loans from Brussels. Only comprehensive reforms of labor markets, public administration and the education and innovation system will help."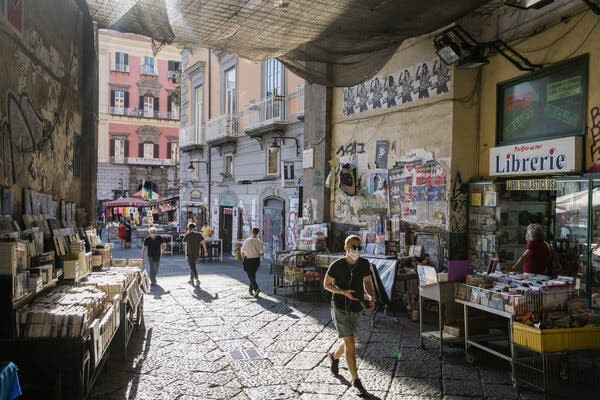 Naples, Italy, last month. Italy, the European Union's third-largest economy, is seen as the member most affected by the coronavirus pandemic.Credit…Gianni Cipriano for The New York Times
Others were angered by the concessions to Mr. Orban, in particular, which may plant the seeds for future conflict.
"Planned sanctions for E.U. member states that violate fundamental rights and the rule of law have been watered down beyond recognition,'' said Daniel Freund, a German European legislator from the Greens. By now requiring a reinforced majority to impose sanctions, "the whole mechanism is rendered useless.''
Ms. Merkel clearly decided she needed the fund more and "has always been lenient on Orban,'' he said. The result, he said, puts leaders "on a collision course with the European Parliament and makes a quick agreement unlikely.''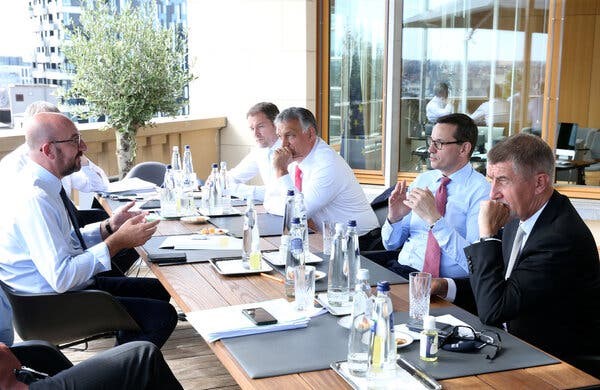 Prime Minister Viktor Orban of Hungary, third from right, with the leaders of the European Council, the Czech Republic, Poland and Slovakia on Sunday.Credit…Pool photo by Francois Walschaerts
Not least, to reach consensus, the E.U. ended up with a smaller post-Brexit European budget, and one that eliminates or reduces spending for some ambitious projects designed to prepare Europe for the future — like in research and climate transition, a fund to promote consensus on carbon goals for 2030 that was slashed by one-third.
Even with the virus, a proposed health fund evaporated entirely. There were also reductions from Commission proposals in other areas of investment, foreign policy and defense.
Ms. von der Leyen called it "a difficult point" and said that such cuts, made in the search for a compromise, are "regrettable, it decreases the innovative part of the budget.''
"It was all about give and take, so the victims seem to have been the E.U. public goods, which deliver value added to all,'' said Jean Pisani-Ferry, a French economist, in a Twitter message. "The price of the deal looks high."
"This is not frugal. This is stupid,'' said Henrik Enderlein, a German economist who heads of the Hertie School of Governance in Berlin, in a Twitter response. But he also applauded the larger deal and the recovery fund. "We shouldn't be frugal in our judgment,'' he said. "This is historic."
As Mr. Enderlein noted, the summit must be considered a breakthrough in a time of crisis when the European Union, now without Britain, could not be seen to fail. European fights about money and budgets are never pretty. But Ms. Merkel more than most understands that for all the talk of European solidarity, the European Union only proceeds when its varied leaders can convince their voters that they have fought the good fight for national interests.
As Janis Emmanouilidis, director of Studies at the European Policy Centre, commented:
"The price of no deal would have been much higher — potentially incalculable both economically and politically at the E.U. and national level.''
But however important, this deal cannot be the last, he suggested, noting: "We are still at the beginning of the Covid-19 crisis.''
Steven Erlanger is the chief diplomatic correspondent in Europe, based in Brussels. He previously reported from London, Paris, Jerusalem, Berlin, Prague, Moscow and Bangkok. @StevenErlanger