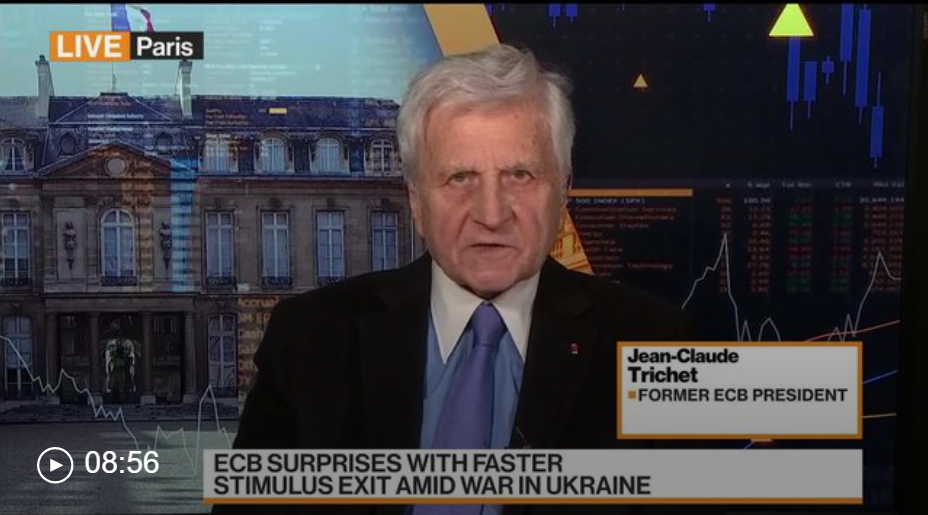 Two top former European Central Bank officials disagreed on whether the institution was right to unveil a speedier withdrawal of monetary stimulus as war rages across the currency bloc's border.
Speaking on Bloomberg Television after Thursday's ECB meeting, former chief economist Peter Praet said accelerating the reduction in net asset purchases amounted to "fine tuning" that was misinterpreted as a stronger message.
"I personally would not have given that signal," Praet said.
Ex-ECB President Jean-Claude Trichet, meanwhile, said the sharp upward revision to inflation forecasts that accompanied the policy announcement meant officials had to do something to anchor price expectations. 
"You cannot have a central bank immobile when you have a level of core inflation at 2.7%," he said. "If they had done nothing, it seems to me that they would have taken some risks."
The difference of opinion mirrored tensions between current Governing Council members as they grapple with the need to protect the euro-area economy from the impact of Russia's invasion while containing the quickest inflation since the common currency's creation.
ECB President Christine Lagarde said some of her colleagues wanted to keep all policy settings on hold, given the heightened uncertainty. Others, she said, called for a more forceful commitment to end stimulus.
While Lagarde described the outcome as "balanced," it still caught markets off-guard, sparking a selloff in bonds and volatility for the euro.
"It was naive to think that the ECB would do nothing when the inflation projections were augmenting quite considerably," Trichet said. 
Read the original article on the site of Bloomberg.