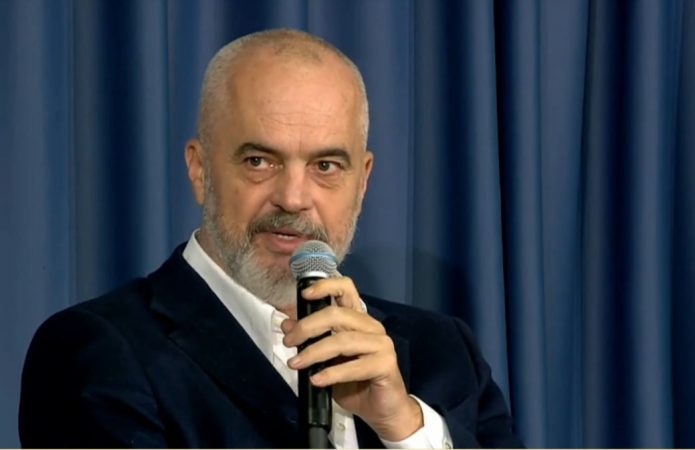 Prime Minister Edi Rama is in Germany on Monday (11 April) to meet with several politicians as well as Chancellor Olaf Scholz in a bid to boost Albania's EU accession which is currently stalled.

Rama touched down in Berlin on Sunday, where he took part in an official welcoming ceremony. His agenda for Monday includes meetings with the Mayor of Berlin, Franziska Giffey, the Federal President Frank-Walter Steinmeier, and Scholz.

Following the meeting with Scholz, a press conference will be held.

The Albanian premier is expected to ask for Scholz's support amid Albania's EU accession bid. Albania's bid to join the bloc has been linked to its neighbour, North Macedonia. While both countries have, on paper, satisfied requirements, Bulgaria has vetoed the latter over historical and human rights issues.

"Albania cannot wait any longer for the two neighbours to resolve their quarrel. Our course in that direction will fully change," Rama said on Thursday in Tirana

Meanwhile, the feeling in Brussels is that enlargement is dead and that Albania only got a unanimous vote to continue accession because they knew the Bulgarian veto against North Macedonia would stop progress in its tracks.

However, other sources say that following Ukraine's bid to join the EU, Albania and North Macedonia will get the green light in June. An opinion on the accession of Ukraine, including whether the process can be sped up, is expected during the same month.

Sources say that a positive assessment for Ukraine could not be on the table unless Albania and North Macedonia progress.

Serbia and Montenegro are in the lead out of the Western Balkan six. But Montenegro's accession process has stagnated somewhat, and while Serbia continues opening chapters, there is no real political will to join the EU.

Albania and North Macedonia are next, waiting to formally start talks, while Kosovo and Bosnia and Herzegovina are yet to get candidate status.

After Scholz met the Austrian Chancellor in late March, he said, "We must take care to strengthen and support the neighbouring regions. Any further delay will make the Western Balkans more vulnerable and open to third-party influence."

The chairman of the EU enlargement committee in the German Bundestag, Green Party politician Anton Hofreiter, told DW in an interview that he hopes the opening of negotiations will take place after the French presidential election. "I have the impression that the EU is also aware that the region and Europe will become more stable and stronger, with the membership of Albania and Northern Macedonia in the European Union," he added.

Read th article on the site of ExitNews.